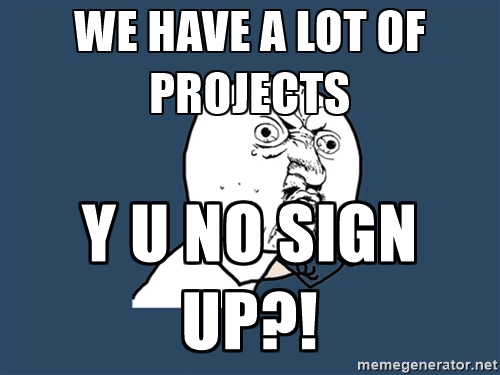 There are a LOT of projects going on in the Su Lab–so many, that it's hard to keep track of them all.
By now, I've posted year-end summaries for some of the major projects in the lab including:
MyGene.info: MyGene.info 2016 Year-end review
MyVariant.info: 2016–More incredible for MyVariant.info than MyGene.info
Gene Wiki / WikiData: 2016–A busy year for Gene Wiki and WikiData
And additional summaries are expected to come soon. The year-end summary for Mark2Cure will be posted tomorrow, and the BioGPS 2016 summary will be shared early in January.
But those are our major projects. Our lab has its fair share of collaborative projects, newer & not-yet-as-popular research tools. As with any academic research lab, we've also had our fair share of member changes in 2016.
Member changes in 2016
Moved on 2016.06.21 – Jennifer Fouquier
Moved on 2016.07.01 – Sandip Chatterjee
New member 2016.04.04 – Sebastien Lelong
New member 2016.05.01 – Mike Mayers
New member 2016.06.07 – Núria Queralt Rosinach
Member Upgrade 2016.12.01 – Greg Stupp has been promoted from postdoctoral research associate to staff scientist! Congratulations, Greg!
(plug alert) If you think what we do is cool, have some serious programming chops and want to join our team, ping us! (end plug)
Milestones reached by other projects in the lab
Branch
-2016.06.24: Branch Paper published (Branch: an interactive, web-based tool for testing hypotheses and developing predictive models)

CryoEM
-2016.04.04: Jake's CryoEM project officially launches on the Zooniverse

Knowledge.bio
-2016.02.26: Implicitome paper accepted (The Implicitome: A Resource for Rationalizing Gene-Disease Associations)
-2016.05.26: Knowledge.bio paper on biorxiv: Knowledge.Bio: A Web application for exploring, building and sharing webs of biomedical relationships mined from PubMed

Science Game Lab
-2016.06.21 – Press release: Solving science questions by playing games
-2016.06.21 – News article: Science Game Lab to be a central hub for scientists and gamers
-2016.06.21 – Science News Release
-2016.06.23-24 – Ben at Games for Change Conference
-2016.09.16 – Margaret on Science Friday mentioned SciGameLab
Looking forward to how these projects and more develop in 2017. If you have time, try them out and let us know what you think! Feedback is a crucial part of the improvement process.