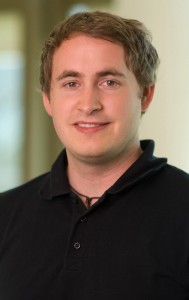 Research Associate
Department of Molecular and Experimental Medicine
The Scripps Research Institute
meissner.t at googlemail dot com


Twitter


Linkedin


ORCID


Bitbucket
Bio
Dr. Tobias Meissner is an expert bioinformatician who joined the Su Lab in June 2013. His dissertation research involved the development and implementation of a gene expression based patient report in order to stratify risk and identify target genes in multiple myeloma patients. After completing his dissertation, he joined as a Postdoctoral Fellow within the Multiple Myeloma Section at Heidelberg University Hospital in Heidelberg, Germany. In joining the Su Lab, Toby brings his highly multidisciplinary skill set to further advance biomedical research involving personalized medicine. Specifically Toby contributes to the Omics and OncoRep projects by researching:
Personalized cancer diagnostics: Toby is conducting prospective data analysis in n-of-1 sequencing settings, and integrating multi-omics data to guide individualized cancer treatments, by using the molecular profile of the patient's tumor to identify drug therapies targeting aberrant gene expression, tumor mutations and dysregulated pathways.
Tool and algorithm development: Toby is building on his experience in risk stratification in developing tools and algorithms for identifying risk factors. Toby has developed OncoRep a fully automated RNA-Seq based report for patients with (breast) cancer, which includes molecular classifiaction, detection of altered genes, detection of altered pathways, identification of gene fusion events, identification of clinical actionable mutations (in coding regions) and identification of treatable target structures.
Additional research projects involve metatranscriptomics data analysis and GWAS:
Metatranscriptomics: Toby has been performing RNA-Seq based global gene expression analysis of dental plaque microbiota derived from 19 twin pairs that were either concordant (caries-active or caries-free twin pairs) or discordant for dental caries. The transcription profiling allowed to establish a functional core microbiota. and the identification of numerous functional networks, enabling a greatly expanded perspective concerning the functional expression of dental plaque microbiota in dental health and disease.
eQTLs: Toby researched the identification of genetic markers associated with quantitative transcriptional levels of one or more transcripts in Multiple Myeloma.
In addition to being fluent in German and English, Toby is is also proficient in a number of programming languages such as R, C/C++, Java, Perl, Python, and SQL. He has several highly cited publications and was granted the Young Investigator Grant at the 13th International Myeloma Workshop held in 2011 in Paris.
Publications
visit my publication list at Google Scholar
Education
PhD (Dr. sc. hum.), Internal Medicine, Faculty of Medicine, Heidelbeg University, Germany, 2011
Diploma, Bioinformatics, University of Applied Sciences, Bingen, Germany, 2008