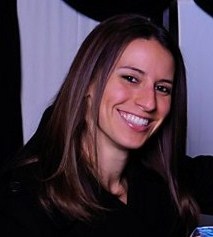 Research Associate
Department of Molecular and Experimental Medicine
The Scripps Research Institute
kfisch
scripps
edu


Linkedin


Google Scholar
---
Bio
Dr. Kathleen Fisch is an accomplished researcher and scholar. She joined the Su Lab as a Research Associate in January 2013, where she applied computational genomics and systems biology approaches to study biological problems. Using her multi-disciplinary skill set, she has been developing computational tools in Python and R, analyzing next gen sequence data on several platforms, and has been collaborating with multiple research groups to analyze and interpret experimental data. She is extremely productive, currently working on several integrative biology projects including:
Personalized Genomic Medicine: Katie is developing and implementing oncogenomic analyses and clinical reports for breast cancer patients in an N of 1 personalized genomic medicine trial; integrating RNA-seq, CNV, whole-genome and whole-exome sequencing results to produce a molecular tumor profile; and using the molecular profile of the patient's tumor to identify drug therapies targeting aberrant gene expression, tumor mutations and dysregulated pathways.
Systems Biology of Osteoarthritis: Katie has been performing next generation sequencing analyses (RNA-seq, miRNA-seq, DNA methylation) on human knee articular cartilage for normal and osteoarthritic samples; integrating data from the three platforms to identify dysregulated pathways and potential genomic regulatory mechanisms in osteoarthritis; and applying systems biology approaches to build a multidimensional molecular profile of osteoarthritis and aging.
Next generation sequencing analysis pipeline development ('omics pipe'): Katie has also been developing an open-source, modular computational platform that automates best practice multi-omics data analysis pipelines on compute clusters and in the cloud; and reanalyzing The Cancer Genome Atlas breast cancer dataset with current analysis tools and annotation.
In addition to her research, Katie also holds adjunct faculty positions in the Biology Department at San Diego City College, and in the Department of Mathematics and Natural Sciences at National University.
Prior to joining the Su Lab in January 2013, she was a California Sea Grant Delta Science Program Postdoctoral Fellow in the Genetics Division of the San Diego Zoo Institute for Conservation Research.
Education
Ph.D. Ecology, University of California, Davis, 2011
B.A. Integrative Biology, University of California, Berkeley, 2006
Publications
Fisch, K., Mahardja, B., Burton, R. & B. May. 2014. Hybridization between delta smelt and two other species within the family Osmeridae in the San Francisco Bay-Delta. Conservation Genetics 15: 489-494.
Fisch, K., Ivy, J., Burton, R. & B. May. 2013. Evaluating the performance of captive breeding techniques for conservation hatcheries: A case study of the delta smelt captive breeding program. Journal of Heredity 104(1): 92–104. PMID: 23125405.
Lindberg, J., Tigan, G., Ellison, L., Rettinghouse, T., & K. Fisch. 2013. Development of a captive refugial population for the endangered delta smelt. North American Journal of Aquaculture. 75(2): 186-196
Fisch, K., Henderson, J., Burton, R. & B. May. 2011. Population genetics and conservation implications for the endangered delta smelt in the San Francisco Bay-Delta. Conservation Genetics 12(6): 1421-1434.
Israel, J., Fisch, K., Turner, T., & R. Waples. 2011. Conservation of native Bay-Delta fishes: past experience and future considerations for artificial propagation of Chinook salmon, delta smelt, and green sturgeon. San Francisco Estuary & Watershed Science 9(1): 1-20.
Fisch, K., Petersen, J., Pedroia, J., Baerwald, M. & B. May. 2009. Characterization of 24 microsatellite loci in delta smelt, Hypomesus transpacificus, and their cross-species amplification in two other smelt species of the Osmeridae family. Molecular Ecology Resources 9(1): 405-408.