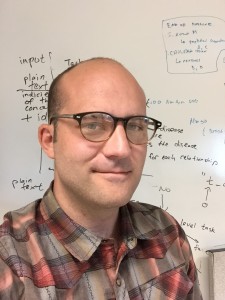 Research Associate
Department of Molecular and Experimental Medicine
The Scripps Research Institute
tputman at scripps dot edu
Github: 

Putmantime

      Linkedin: Timothy Putman

     Twitter: @putmantime
---
Bio
Tim Putman obtained his PhD in Molecular and Cellular Biology in microbial genomics from Oregon State University in June of 2015 and joined the Su Lab as a research associate in August of the same year.  His project involved modeling and linking microbial data in Wikidata.
He left the lab in July, 2017 and is now a Research Assistant Professor and Bioinformatics Software Developer at Oregon Health and Science University.
Education
Ph.D. Degree, Oregon State University, Corvallis, Oregon
B.S. Degree, University of Oregon, Eugene/Bend, Oregon