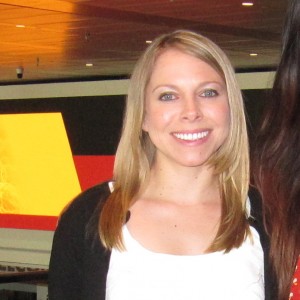 Bioinformatics Programmer
Department of Molecular and Experimental Medicine
The Scripps Research Institute
fouquier at scripps.edu

Google Scholar

LinkedIn

Twitter
---
Bio
I am a bioinformatics programmer with a specialty in developing and applying open-source bioinformatics tools as well as over 10 years of laboratory experience in various areas of biological research. I received my M.S. in Bioinformatics from San Diego State University, where my research focused on using culture-independent molecular methods (NGS data from the ITS-1 gene region) to analyze fungi assembling in public restrooms—it was super glamorous, I promise you. I used bioinformatics to analyze my data as well as develop a software tool to improve fungal phylogenetic diversity analyses. I am very excited to be involved in such great bioinformatics projects here at The Scripps Research Institute.
Education
M.S. in Bioinformatics and Medical Informatics, San Diego State University, San Diego, CA, USA
B.S. in Microbiology, University of California, San Diego, La Jolla, CA, USA
Publications
Fouquier J, Rideout JR, Bolyen E, Chase JH, Shiffer A, McDonald D, Knight R, Caporaso JG, Kelley ST. (2015) Ghost-tree: creating hybrid-gene phylogenetic trees for diversity analyses. PeerJ PrePrints 3:e1354.
Gibbons S, Schwartz T, Fouquier J, Mitchell M, Sangwan N, Gilbert J, Kelley ST. Ecological Succession and Viability of Human-Associated Microbiota on Restroom Surfaces. Appl Environ Microbiol. 2015:AEM.03117–14.