When someone washes their hands, flushes a toilet, or showers, the wastewater is discharged to municipal sanitary sewer pipes and flows to a wastewater treatment plant. Before the water is treated, the raw wastewater can be analyzed to detect the prevalence of circulating viruses. Through wastewater-based epidemiology, scientists can take a snapshot of public health in a region. Moreover, this analysis can offer early detection of outbreaks. When someone infected with COVID-19 flushes their toilet, the wastewater contains SARS-CoV-2 RNA.
Chemical engineer Steve Balogh is a Principal Research Scientist at Metropolitan Council Environmental Services (MCES) in Minnesota's Twin Cities metro region. MCES operates nine wastewater treatment plants processing a combined 250 million gallons of wastewater each day. With the COVID-19 epidemic devastating the country, Steve and his colleagues at MCES began looking into innovative ways they could help. Steve read that countries in Europe were measuring SARS-CoV-2 in wastewater. He was inspired to figure out how to do the same in Minnesota, sharing "We hadn't measured RNA or DNA or anything in our wastewater before, but it seemed like the crisis had changed the way we operated, so we tried to figure out how to do it."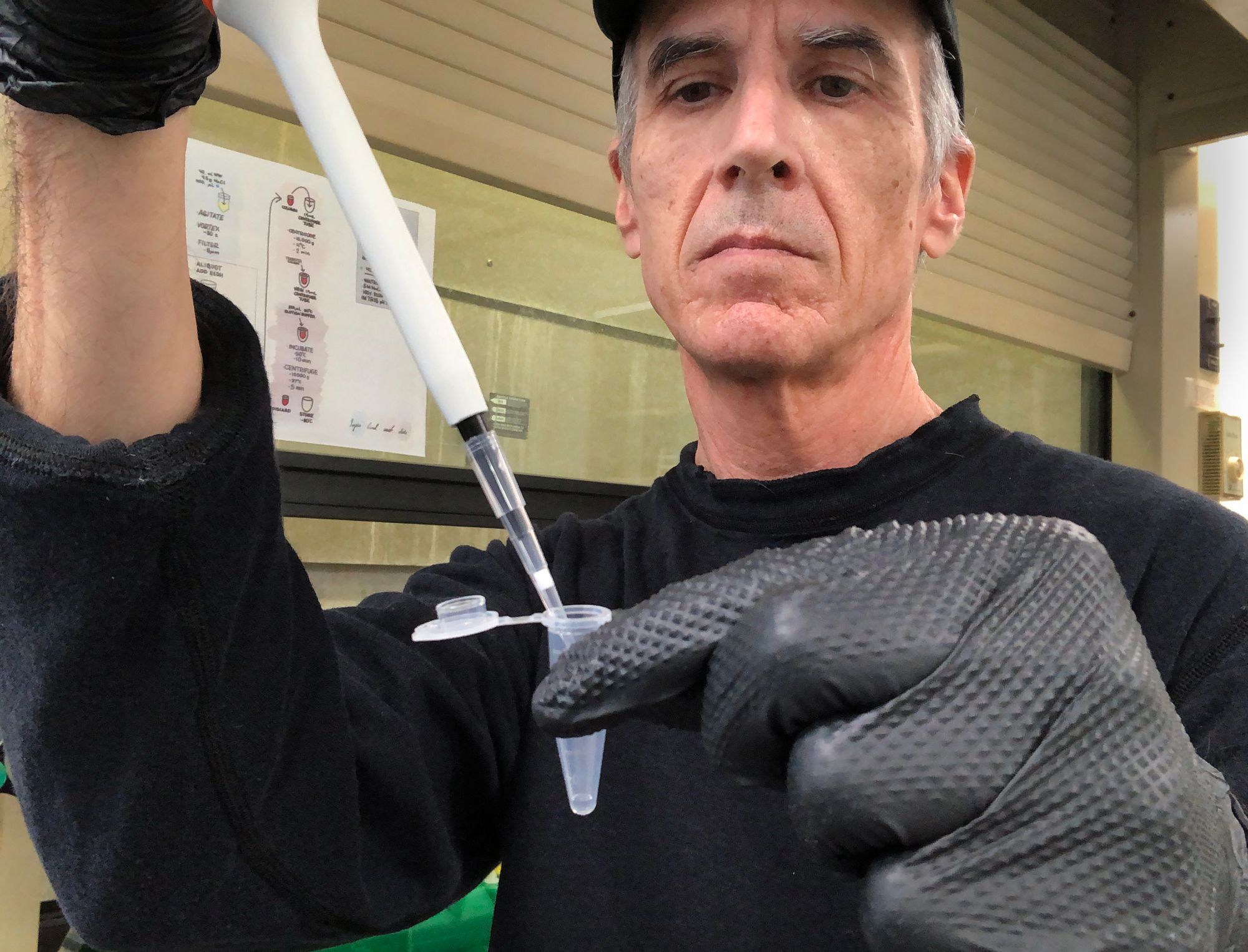 Steve began reading all the preprints and protocols that were published on SARS-CoV-2 wastewater sampling and came up with a process. They began sampling the raw wastewater and sending the samples to the University of Minnesota Genomics Center (UMGC). Through ddPCR testing and sequencing, UMGC was able to detect the presence of the virus and collect genomic data. Then UMGC sent the data back so the scientists at MCES could calculate the load of SARS-CoV-2 per capita and compare it with public health data.
Almost immediately, Steve discovered the wastewater analysis tracked with the clinical data in the Twin Cities metro area. Initially, they tracked the concentration of SARS-CoV-2 in wastewater and compared it to overall COVID-19 cases. When the Alpha variant emerged in December 2020, Steve recognized the opportunity to track the prevalence of variants in the Twin Cities.
Using off-the-shelf assays with droplet digital PCR analysis, Steve and his colleagues look for specific mutations in RNA collected from wastewater. Specific mutations serve as indicators of different variants. In early 2021, they identified mutations that could differentiate Alpha, Beta, and Gamma sequences. They used Outbreak.info to identify characteristic mutations. By the beginning of June, however, their assays showed that the Alpha, Beta, and Gamma variants were decreasing in prevalence.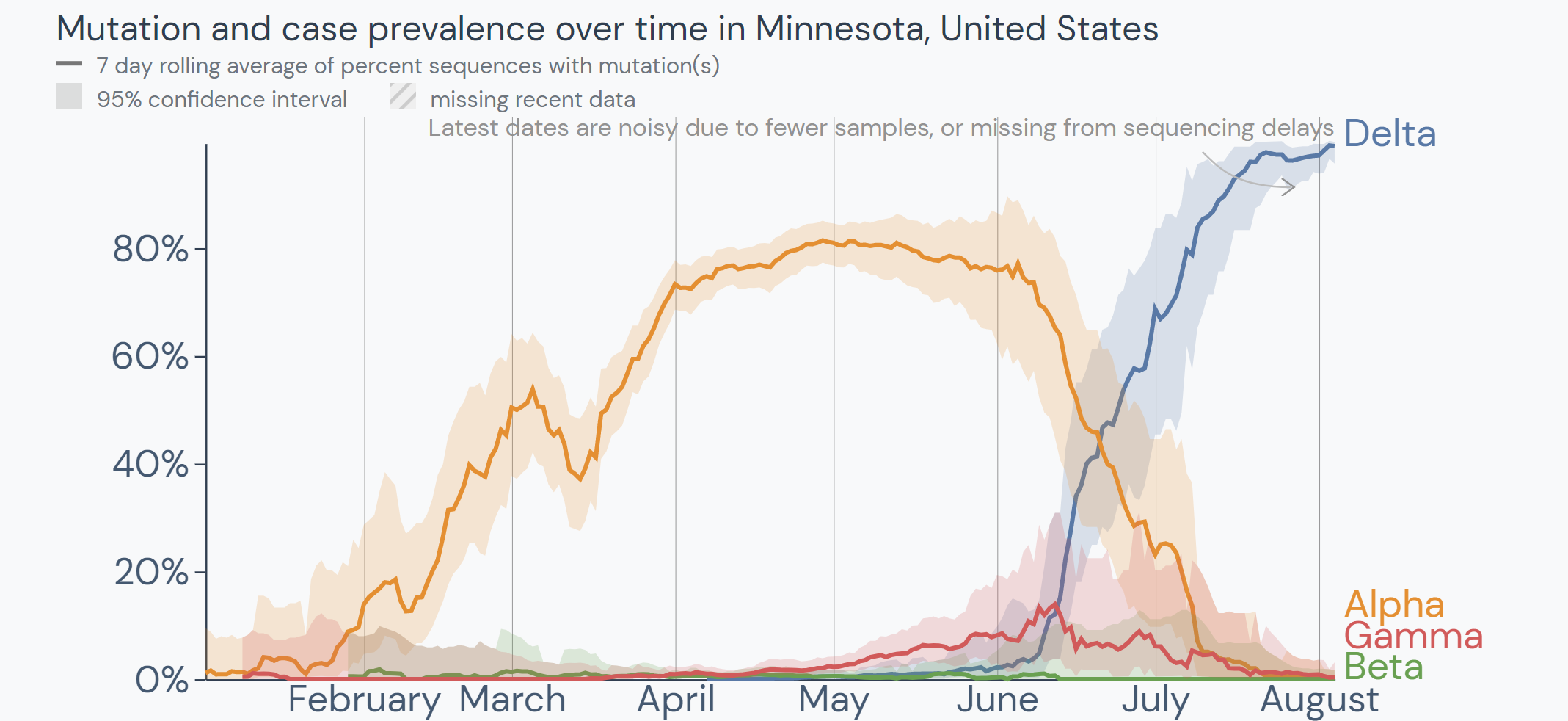 Variants in Minnesota over time from Outbreak.info
This coincided with the news of the Delta variant emerging, which was quickly outcompeting variants in other countries. They started using a different assay to look for the L452R mutation in their wastewater samples. While L452R was largely prevalent in Delta variant sequences, it could also be found in the Epsilon variant; however, using data from Outbreak.info, they could see the Epsilon variant was not affecting Minnesota.

Characteristic S-gene mutations in Alpha, Beta, Delta, and Gamma variants from Outbreak.info
"I simply look at the website and download the data that shows the prevalence or the frequency of the observation in the clinical sequence data. I look at that against the wastewater data and back in March and April when we were doing it for Alpha, Beta and Gamma, it was remarkable. Our data against your data is right on all the time and it's also the case with Delta."
Collecting genomic data from wastewater sampling can give health officials information about variant prevalence in a short amount of time. It can take two or three weeks to collect samples from an infected patient, sequence the genome, and report the data; but Steve's team can get wastewater data in under a week.
In May, two AY.2 cases, a sub-lineage of the Delta variant, were identified in clinical samples in the Twin Cities metro area. The Minnesota Department of Health asked the wastewater treatment scientists if they could spot AY.2 in the wastewater. They immediately started using a K417N assay to look for it in wastewater samples and were able to show that AY.2 was not prevalent in the area. Clinical sequencing data backed up this conclusion a few weeks later.
Wastewater surveillance has some limitations, nonetheless. Steve's team depend on assays that are commercially available. Supply chain issues can cause delays, as well as a lack of assays for newly identified mutations. Because the virus changes at an alarming rate and new variants emerge every week, Steve says that their strategy going forward is shifting. They are now attempting to specifically capture SARS-CoV-2 RNA in wastewater and sequence the entire genome to look for frequent mutations. Then they will compare the mutations that are highly prevalent to characteristic mutations in Variants of Concern. Steve says, "Maybe that will be a better way in terms of being able to respond quickly to changes in the variant. Because we know it's all going to change again. As soon as we get used to this one, it's going to change again."
The scientists at MCES's wastewater treatment plants went above and beyond their duty to treat wastewater. They took the initiative to create a tool that can be used by the Minnesota Department of Health to monitor COVID-19. They've been sharing weekly data with the Department, specifically variant prevalence over time. Powerful collaboration is the solution to the pandemic. Open sharing of data between the scientists at MCES, UMGC, and MN Department of Health, as well as Outbreak.info, GISAID, and the researchers around the world submitting data adds to the unprecedented level of free information exchange occurring globally.