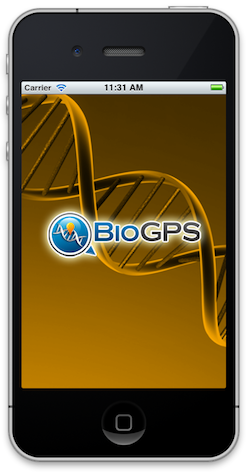 We are very proud to announce the arrival of the brand new iPhone app for BioGPS!
As humbly as we can possibly say it, this app is awesome. If you like BioGPS through your web browser, then you'll love the app. As one colleague says,
"I use it to dream up questions during seminars — it makes me look smart!"
The app gives you full access to virtually all the functionality in BioGPS, including access to the 250+ plugins in the plugin library and all of your custom layouts.
One important note. If you are a user of the old BioGPS app, then you must download this app again. Apple does not allow transferring of apps between organizational accounts, so the old version under out GNF account has now been retired. That means you will not see the option to directly update, so click the link above to get the new version. This also means that we lost our ratings history, so please rate our new app!
We described previously how this was our experiment in outsourced development. For what it's worth, our experience with Optra Systems was about as good as we could have hoped for. When the right situation arises, we'll be going back to these guys…